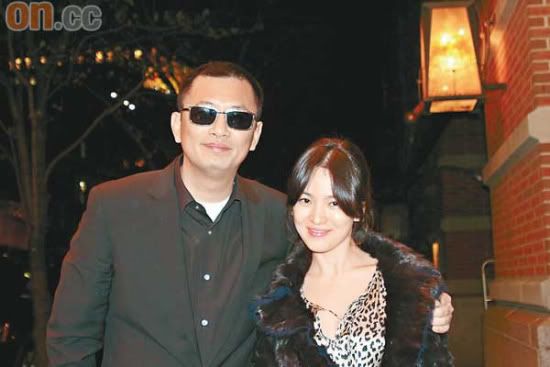 Director Wong Kar-Wai has been busy working on his own movie about the legendary Wing Chun master Ip Man. They recently completed shooting in the Northeast region of China and will soon head South to Guangzhou. Before filming resumes for The Grand Master, his all-star cast gets a one-week break while the crew is moving the set.
Korean star Song Hye-Kyo will be one of the cast members participating in the Guangzhou filming. She was previously rumored to have gained weight, but the actress looked very slim when she was spotted in Hong Kong shopping for some DVD's. According to the news, she has been working hard on her moves as well as her Chinese, and hopes to complete the film with her own voice.
On the other hand, "Ip Man" Tony Leung didn't get much of a break as he had to film a commercial in the mainland. When asked about working with Song Hye-Kyo, he said they actually met each other back at the premiere of his film 2046. He was also asked if they share any intimate scenes, Tony Leung responded, "How would I know! There hasn't been any in the script so far. (Will there be some later?) We'll know when the time comes!"
Their co-star Chang Chen hasn't been home for months since filming started, therefore he returned to Taiwan during the break to get some summer clothing. Meanwhile, actress Zhang Ziyi will also take part in the Guangzhou filming, but the production remained tight-lipped concerning what role she is playing.
http://news.sina.com.tw/article/20100525/3181954.html
http://www.nownews.com/2010/05/26/340-2607400.htm