I'm reposting the missing news:
Chang Chen said in an interview that he will not be playing Bruce Lee in "The Grand Master". In fact he personally recommended to WKW that Jay Chou should be cast in the role.
"I do not feel like Bruce Lee, I think that Jay is more suitable, I once recommended him to Wong Kar-wai."
About rumors that Zhang Ziyi will play Ip Man's wife: "I do not know! But if it's true, I'm looking forward to cooperating with her."
He also said that he's looking forward to working with Tony Leung again.
http://wongkarwainews.blogspot.com/2010 ... -play.html
Opening ceremony photos of "The Grand Master".
Attended by Wong Kar-wai, Tony Leung Chiu-wai, Zhang Ziyi, Chang Chen and martial arts choreographer Yuen Woo-ping (wearing the baseball cap).
http://wongkarwainews.blogspot.com/2010 ... aster.html
Wong Kar-wai went to Shenyang to pick some students of Zhao Benshen to star in "The Grand Master". Zhao Benshan will star in the film and is rumoured to play a Chinese boxer from North China.
Frankie Chan (Ashes Of Time) is rumoured to be the composer.
http://wongkarwainews.blogspot.com/2010 ... -zhao.html
In secret headquarters in Kaiping, Zhang Ziyi has been busily training herself for "The Grand Master". Supervised by coaches, she took part in running exercises, rope skipping and Wing Chun practice. Zhang Ziyi agreed to play Yip Man's (Tony Leung) wife after asking Wong Kar-wai to increase the size of the role.
http://wongkarwainews.blogspot.com/2010 ... aster.html
Interview with martial arts choreographer Yuen Woo-ping
As the martial arts choreographer for Wong Kar Wai's "The Grand Master", what do you think of Ip Man trend?
Yuen Woo Ping: It might bring back the kungfu film wave, when there are so many Ip Man related films. Actually, the first was Wong Kar Wai, he talked about it for years, but only started shooting now. They have already finished filming Ip Man 2, yet he hadn't even started. I have to hand it to him, such patience, taking such a long time to do the preparation. I don't dawdle, dawdling grinds people to death.
Tony Leung is lucky to have met a good director, normally, they aren't given so much time to train. Their collaboration is bound to be fruitful.
Is it bad for so many to jump on the bandwagon shooting the same theme?
Yuen Woo Ping: There are advantages as well as disadvantages, depending on how they are arranged. The audience might grow apathetic, like in the past, more than 100 Wong Fei Hung films were produced, but it was released at the interval of a few months, with no more than three being released each year. But if they released everything at one go, you'd be in for a big headache.
Each era is bound to have certain paragons, in the past, it was Wong Fei Hung, now it is Ip Man. If you only shoot a similar subject after some time, the audience would feel fresh, when what you shoot has certain standards, it's fine, but I fear they might not be able to keep up.
http://wongkarwainews.blogspot.com/2010 ... -arts.html
According to China's portal site, Sina.com on December 21st, Song Hye Kyo (Full House) has decided to appear in director Wong Kar-wai's The Grand Master and is currently undergoing intense training. Tony Leung, Zhang Ziyi, Chang Chen, and other top stars from Greater China are also appearing. This will be Song Hye Kyo's first challenge in an action role since her debut. It has been known that Song Hye Kyo went to China at the beginning of this month to undergo martial arts training. Sina.com revealed photos of her practice form where she is sporting casual attire.
Wong had continuously expressed his interest in working with Song, officially stating so at the Pusan International Film Festival in 2004. He also invited her to the premiere of his film "My Blueberry Nights" held in New York of August 2008.
A rep for Song Hye-kyo confirmed, " Due to confidentiality stipulations, further details cannot be revealed, but it is correct that Song Hye Kyo she is currently preparing for a new project in China."
Song Hye-kyo's management company, Eden9 stated, "Since first receiving director Wong's proposal, she decided to take part in the movie. As of yet, we are not at the stage to reveal which role she will take. Currently, she is learning Cantonese and practicing martial arts."
Director Wong Kar-wai stated, "Though she won't have many action scenes, we want her body to be familiarized with natural movements." Also, she will work with a native tutor to study Chinese.
http://wongkarwainews.blogspot.com/2010 ... -arts.html
Location filming for "The Grand Master" began in January 2010 in Shenyang, China in below freezing temperatures.Wong Kar-wai is now shooting some parts of the film in Northern China with Zhang Ziyi and the Zhao Benshan. It will take 2 weeks for shooting this part, so they should be finished around 23-24 January. Wong Kar-wai then plans to return to Southern China to continue shooting with the other actors, like Tony Leung, Chang Chen and Song Hye-kyo.
According to this report, the script has changed once again. Zhang Ziyi is now playing a student of Zhao Benshan, with Zhao Benshan's disciplines also participating in this film. The movie will become less solemn and more like a comedy. Zhao Benshan will play another martial arts master, most likely a Chinese boxer. The shooting site will move from the Guangdong province (southern part of China, near to Hong Kong) to another city in the north-eastern China. Wong Kar-wai wants to add winter and snowing scenes to the movie.
http://wongkarwainews.blogspot.com/2010 ... nyang.html
The 6th Hong Kong Entertainment Expo will take place on March 22 to April 18th. Tony Leung attended the press conference as the Entertainment Ambassador. When asked how his filming was going for "The Grand Master"? Tony replied saying he had filmed scenes in Kaiping earlier. The team is now in Shenyang filming. Originally he was not part of the filming in Shenyang, only Zhang Ziyi and Zhao Benshan were filming there. However, as director Wong Kar Wai felt the snow scenery was too beautiful, he decided to add Tony in as well. He will rejoin the crew after Chinese New Year's. Because of that, he will not go skiing during New Years, as he doesn't want to risk getting injured.
Zhang Ziyi was rumoured to have gotten ill filming in Northern China and apparently need to go to the hospital for treatment. Tony said, "It's pretty common receiving IV fluids. The feeling is like eating chicken. When Ang Lee was filming "Red Cliff", he had to go to the hospital after suffering from exhaustion. I hope everything will go smoothly for me." As for the rumours that Zhang Ziyi's screen time will be reduced? Tony says he hasn't heard anything about it. However, it seems highly unlikely as Wong Kar Wai already has the script in place. He does not foresee any changes. Has Zhang Ziyi's mood been affected by her negative press lately? He says he doesn't know, as they haven't filmed any scenes together yet. He only knows that Song Hye-kyo will be appearing in the movie. As for whether Gong Li will appear or who will play his wife? He expresses he doesn't know either. However, Tony expresses he's looking forward to working with Song Hye Kyo. He met her when he was in Korea promoting 2046 and felt that she was very special.
When asked if he was a good fighter? Tony joked and said, "You wouldn't expect any less from the Grand Master right?" He expressed that while he hasn't been seriously injured in training, he does have lots of body contact with his instructors so he often gets bruised up. He jokes and says, "I'm looking forward to counting all my injuries when the movie is complete." Donnie Yen has said, 'if you don't fight, you won't be injured'. Tony says, "This is an action movie. It's the same as soccer, there will be physical contact. Injuries are to be expected." He praises Yuen Woo-ping, saying his style is very good.
He admitted that when filming of "The Grand Master" started, the action was so fast-paced that he "almost couldn't hang in there." "This is a genuine kung fu movie," Leung said, adding "there really will be many action scenes."
http://wongkarwainews.blogspot.com/2010 ... ll-be.html
"The Grand Master" stars Tony Leung as Wing Chun grandmaster Yip Man, and also features Chang Chen and Zhang Ziyi. Each of the actors has been outfitted with specialized protective gear that has been made especially for this film, to prevent injury while upping the realism of the fight scenes. The guards are made of silicone and fitted to each actor's body to move with them and, as they are lightweight, remain undetected underneath clothing. As Song Hye-kyo is reportedly using these guards in filming, we can look forward to seeing her in action. (It'll be an interesting sight, that's for sure; Song has always been known for her femininity and beauty, so a martial arts action film will be a complete turnaround from her existing image.)
Song has been traveling back and forth between Korea and China since December, and has been diligently practicing her Chinese language and martial arts skills. "The Grand Master" recently began filming, and is planning for a release in the second half of next year.
Whilst promoting the drama "Worlds Within" in Taiwan, actress Song Hye-kyo told reporters that she is a self-proclaimed fan of Kar Wai, and loves his films such as "As Tears Go By", "ChungKing Express", and "In the Mood For Love". Being able to participate in his film for her first Chinese movie, "The Grand Master", she is excited. Kar Wai is a director who keeps the script safe in his heart, so actors often don't know what he's thinking. However, she is not worried at all. She likes Wong Kar Wai's style of movie direction, no scripts will give the director more freedom in shooting the movie. "Since I debuted, it's the first time I've come across such an acting style, so I am very excited."
http://wongkarwainews.blogspot.com/2010 ... aster.html
At a media event, Hong Kong singer/actor Julian Cheung Chi-Lam (A Mob Story) told reporters that he will be starring in "The Grand Master".
http://wongkarwainews.blogspot.com/2010 ... grand.html
"The Grand Master" has been secretly filming in Diaobingshan, Tieling City for the past two months. In order to prevent the plot from being leaked out, the crew has been extremely strict with reporters visiting the set. Even those delivering food had to sign confidentiality agreements.
On March 30th, reporters were finally able to uncover the latest progress from the movie. Actress Song Hye-kyo finished filming her scenes from the film yesterday. She flew back to South Korea from Shenyang earlier in the day.
Joining the crew after Chinese New Years, Tony Leung had a chance to meet with his idol Zhao Benshan in Diaobingshan. According to sources, Zhao Benshan will be making a guest appearance in "The Grand Master". While his screen time has still not been confirmed yet, Wong Kar-wai will be keeping the workload light for his friend and will only arrange for him to film one scene in the movie.
Chinese news report regarding the filming of "The Grand Master" near Diaobingshan, China.
http://video.sina.com.cn/ent/m/c/2010-0 ... 8241.shtml
http://wongkarwainews.blogspot.com/2010 ... gshan.html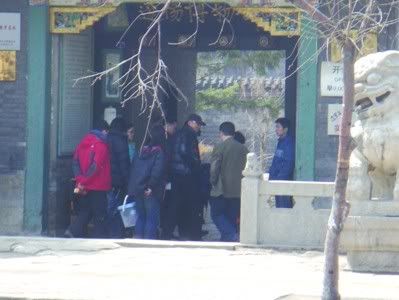 Filming "The Grand Master" in Liaoyang War Museum Old Building and it's hard to see any of the stars as the crew has not allowed others to stay in the hotels. The arrival of Wong Kar-wai, Tony Leung, Zhang Ziyi, and martial arts choreographer Yuen Woo-ping caused quite a stir with many people arriving to see the stars. The crew have worked hard to secure areas of the museum, with "under constructuction" and "closed" signs hung outside the doors. "The Grand Master" crew have signed confidentiality agreements to prevent leaks, with the museum also signing an agreement.They filmed indoors until the early hours, with Wong Kar-wai wearing sunglasses at the midnight shooting. Security is extremely tight and impossible to see the cast. Zhang Ziyi was spotted and described as being very thin and pale and Tony Leung also lost weight.
http://wongkarwainews.blogspot.com/2010 ... g-war.html
According to Sammo Hung who worked on rival Yip Man film Ip Man 2, legendary martial arts choreographer Lau Kar-Leung ("Drunken Master 2") is connected with "The Grand Master", though it's unclear in what capacity as Yuen Woo-Ping ("Crouching Tiger, Hidden Dragon") and his stunt team are also working on the film.
Heard that you sought Liu Chia Liang's counsel for this role, what suggestions did he give you?
Sammo Hung: He said, sorry, he was working on Wong Kar Wai's The Great Master, and had to keep his own counsel, so, I had to do my own homework.
http://wongkarwainews.blogspot.com/2010 ... aster.html
Sorry for the giant post, but everything is now updated.