Hopes are raised for Bridgette Lin comeback; leads Tony Leong and Jay Chou to act in 'First Generation Master'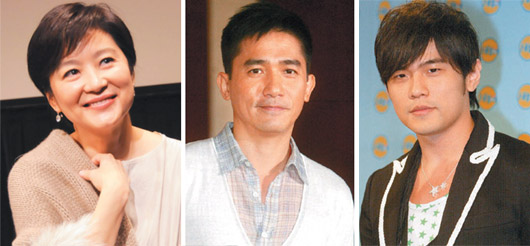 Bridgette Lin (林青霞), whom has been retired from the entertainment industry, has finally reappeared in the spotlight again. Wong Kar Wai (王家卫) is going to be directing a new movie, 'First Generation Master 一代宗师', and is planning for three big shots to be in it: Bridgette Lin, Tony Leung (梁朝伟), and Jay Chou (周杰伦). If this pairing is successful, it will definitely be this year's most anticipated Chinese movie.
According to Taiwan's 'United Daily News', Bridgette Lin's come back is definitely not just a dream for her many fans. There are rumours that for Wong Kar Wai's new movie, 'First Generation Master', he had invited her to be the main female lead. The type of character is kept a secret, but it will be fresh and interesting, having to do with a woman masquerading as a man. That, added to the script and cast, really tempted Bridgette Lin.
'First Generation Master' is a movie that Wong Kar Wai announced that he would film four years ago. At the start, it was planned that Tony Leong would act as a martial arts master, 'Ye Wen 叶问'. Because this is a true story, and needed to be thought through very carefully, Tony Leung first accepted John Woo's (吴宇森) offer to star in 'Red Cliff 赤壁'. Later on, he started to concentrate on preparing for the role, even hiring a martial arts expert to teach him, and he would practice every Friday.
Wong Kar Wai has never filmed a martial arts movie before, and in order to make the martial arts moves look more steady, he went to Beijing last year and consulted 'Beggar So 苏乞儿's director Yuan He Ping (袁和平). He invited him to be the martial arts director for the movie, and even met Jay Chou, and now he hopes that Jay would be able to act in 'First Generation Master'.
Wu Si Yuan (吴思远), who has directed other films such as 'Song Dynasty 宋家皇朝' and 'New Dragon Inn 新龙门客栈' in Mainland China, has been invited to be in the production team for 'First Generation Master'. Last year when he attended Taiwan's Golden Horse Awards, he revealed that he knew long ago that Wong Kar Wai was looking to invite Jay Chou to act as Ye Wen's disciple, Bruce Lee (李小龙).
Jay's company, JVR Records, expressed that the producers of 'First Generation Master' had indeed invited Jay to star in it, but in the next half of the year, Jay will be busy filming the movie 'Ci Ling 刺陵'. Next year, he will be working on his next album, and there is a possibility that he would start another concert tour. Right now, it looks like time is preventing Jay from starring in the film.
After filming '2046' in 2004, Wong Kar Wai hasn't filmed a mandarin movie till now. 'First Generation Master' will be a new milestone in his career. This is his first time filming a martial arts film, and it will be taken from a true story. If he is successful in getting Bridgette Lin to end her retirement to film her 101st movie, and pairing her together with Jay Chou, whom she admires, with Tony Leung as well, 'First Generation Master' will truly become a legend.
http://asianfanatics.net/forum/Hopes-ar ... 19741.html
Post-script: I'm guessing they're counting Ashes Of Time as a wuxia film rather than a martial arts film.
The rumours about Bridgette Lin's return stem from her meeting Wong Kar -Wai, Tony Leung and Carina Lau for Christmas dinner, and was thus speculated to be discussing her comeback movie.
Wilson Yip the director of Ip Man (the rival movie starring Donnie Yen) said that the sequel could've involved Jay Chou as Bruce Lee.